Bringing The Buckley School's best to you

We bring our same methods and faculty to private programs, and we're eager to customize to meet your needs. We can:


Design short training modules or multi-day programs
Cover a range of topics, including public speaking fundamentals, advanced presentation skills, business writing, PowerPoint, media interviews, business etiquette, sales pitches, or customer Q&A
Focus on refining the professional presentations your employees deliver every day
Work with small groups—or design interactive sessions for large audiences at conferences and retreats


---
Budget friendly, convenient, and effective

For companies that have a number of employees to train, our on-site programs make sense:


You save on travel.
Training on-site means less time away from the office—and from home—for your people.
When everyone is from the same group, our session becomes a team-building experience, one that helps everyone tell your organization's story better.


---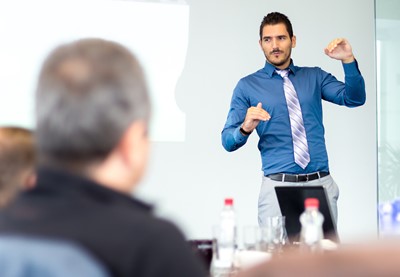 Our Most-Requested Programs

Our one-day and two-day public speaking workshops for up to 12 people are the most frequently requested on-site programs. They're similar in style to our Executive Seminar.
These programs include:


On-your-feet speaking exercises with feedback.
Two Buckley School faculty members to provide one-on-one coaching for every participant
The option (in two-day programs) to use a debate as the final speaking exercise.


---
Contact us with your needs, so that we can develop a program for you.